US naval  : A US Navy sailor has been arrested on the southern Japanese island of Okinawa on suspicion of drunk driving, Japanese police said.
Petty Officer Aimee Mejia, 21, was involved in a three-car accident injuring two people on Saturday.
Military personnel are already under curfew after a US military employee was arrested on suspicion of dumping a local woman's body.
Many in Okinawa have long campaigned against the heavy US military presence.
PO Mejia was driving the wrong way down a street and hit two vehicles. A local woman was left with a cracked breastbone, police said.
PO Mejia's alcohol levels were about six times the permissible level, NHK reported.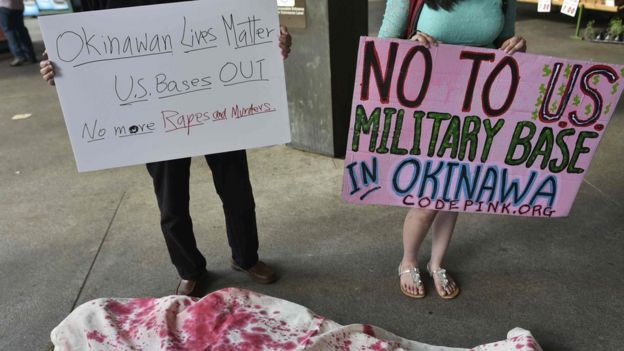 The US military has said it is co-operating with the Japanese investigation.
"We deeply regret this incident and express our heartfelt sympathies for the accident victims and their families. We wish them a fast recovery," said Lt Gen John Dolan, commander of US Forces in Japan in a statement.
Last month, an American civilian base worker was arrested on suspicion of abandoning the body of a Japanese woman. Police are investigating whether the woman was murdered.
Following that the US military imposed drinking restrictions and a midnight curfew until 24 June. It is also currently observing a 30-day-period of mourning at its bases on Okinawa.
Okinawa is home to more than half of the 50,000 American military in Japan. There are plans to relocate the Futenma airbase, but after a series of alleged crimes by US military personnel many residents want to see it removed altogether. 
US naval
Comments
comments