Euro 2016:
A number of British people are in hospital in France, the UK's ambassador has said following a series of clashes between football fans in Marseille.
Violence has broken out between England fans, rival supporters and police for three days in the French port city.
There were also clashes in the stadium following England's 1-1 Euro 2016 draw with Russia, after Russia fans appeared to rush at England supporters.
French police said one Briton had been seriously hurt in the earlier clashes.
Witnesses said trouble began in the stadium after flares were let off by Russian fans near the end of the game. Some fans had then climbed across barriers designed to keep rival fans apart.
An England supporter, who was in the stadium, told the BBC: "As soon as the Russian goal went in, the Russian guys, sort of, streamed across.
"The segregation wasn't too great. So it seemed pretty easy for the guys to steam across. It seemed to just sort of separate."
And another fan said: "There were some Russian fans who got same flares in. They were lighting them, there was a loud bang, and then you saw the line of Russian fans… just charging across at the England fans.
"I saw a flare going into the England section or mixed the section. But all England fans just ran across, and as soon as the fans started running everyone ran."
BBC sports editor Dan Roan said England fans began jumping over the perimeter fence in panic.
"Big questions for Uefa here," he tweeted. "Stampede appears to have been triggered by explosion. How did such a device make it inside and where was segregation?"
'Pretty terrifying'
A senior FA security official said he had not witnessed anything like it in nine major tournaments he had attended.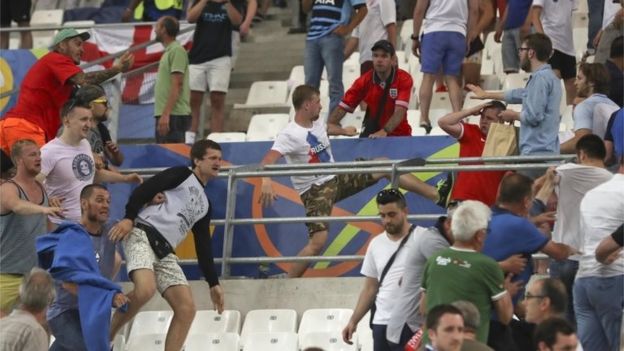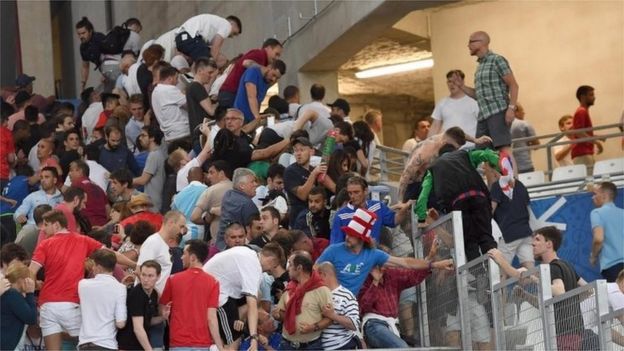 Ambassador Julian King tweeted: "Number of Brits in hospital overnight. Consular following closely with French authorities."
He added that the embassy was "reviewing the situation" with the French authorities.
Earlier on Saturday French police said one Briton had had to be resuscitated by officers and was left in a critical condition.
They have used tear gas for a third day and a water cannon to try and stop outbursts of violence.
There were also clashes in the city of Nice between police and fans from Northern Ireland and Poland, who are due to play their opening match later. Six people were reportedly injured, before order was restored. source bbc sport
Euro 2016
Comments
comments