FULL-TIME
Croatia 0-1 Portugal
It was a game that didn't deserve a winner. Neither team was prepared to make any kind of risk to win it. But Portugal are the ones who progress, courtesy of that late Ricardo Quaresma goal. It was the first actual shot on target. The only one in the match.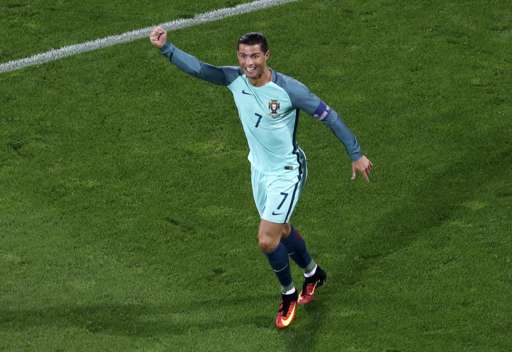 Oh! So close! The initial free-kick is headed away but the ball is returned from the opposite side and pinballs around before Domagoj Vida hooks an effort just wide of the far post.
Time is almost up. Croatia have a free-kick on the left.
Get involved #bbceuro2016
Pope Packard: I don't believe it!! Went to make a cup of tea to get me through pens. Typical.
Helles Mammut: Brilliant move by Cristiano Ronaldo, initiated the counter-attack with an opening pass and gave the assist at the other end.
Khurshid Patel: 27 seconds between Croatia hitting post and Portugal scoring a goal. Electric Speed.
Croatia have been pedestrian all night, but suddenly they are absolutely desperate.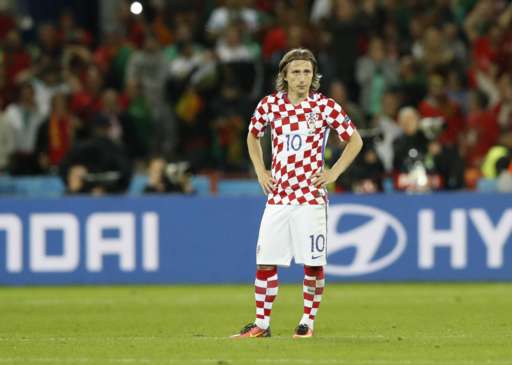 Danny Mills
Ex-England defender on BBC Radio 5 live
This is unbelievable. The header at one end comes off the post, it goes up the other end and Ronaldo is one-on-one. It's an awful finish. The keeper palms it out and even in this game Quaresma from two yards out has to hit the target.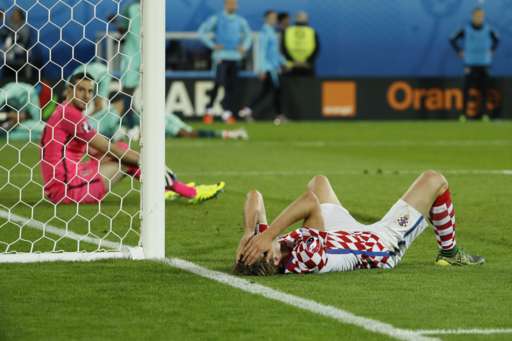 GOAL – Croatia 0-1 Portugal
Ricardo Quaresma
Would. You. Believe. It.
Not a shot on target for 115 painful minutes and then, from nowhere, we have one minute of madness that ends with Portugal scoring what is probably going to be the winner. Kalinic can't reach a cross across the face of goal before the men in red and white hit the post through a Perisic header. Portugal then immediately break and set up Ronaldo for a shot that is saved and then headed into the empty net by Ricardo Quaresma from point-blank range.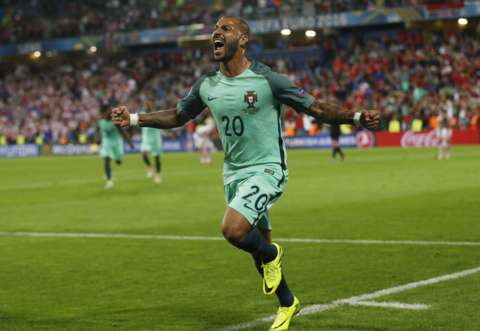 Six minutes left. Then the sweet, blessed relief of a game-ending penalty shoot-out. I've spent happier times in a dentist's chair.
Chance! A really good one as well. Croatia swing a corner to the back post and Portugal keeper Rui Patricio trips over his own defender to give Domagoj Vida an open goal to hit. The ball is just a touch too high, though, and he can't keep his header down. We still don't have a shot on target.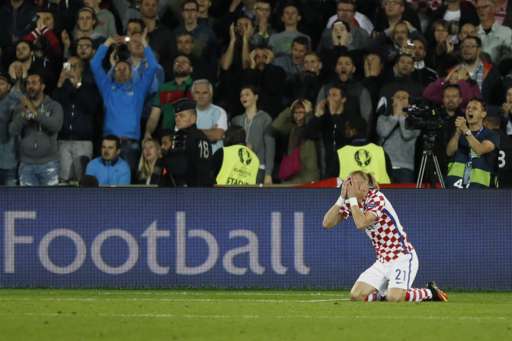 Nani goes for the spectacular with an acrobatic effort in the box but like everything else in this game he falls flat. On his backside. The ball spins off away from goal and is cleared.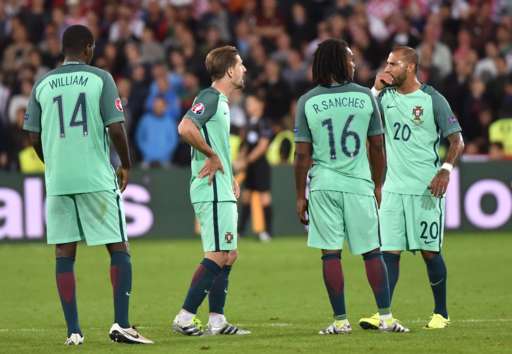 SUBSTITUTION
Croatia 0-0 Portugal
Ivan Rakitic has been really disappointing. He is not alone of course. I only mention it because he's off, replaced by Marko Pjaca.
They could genuinely sell the DVD of this game as an insomnia cure. There is nothing of any note happening.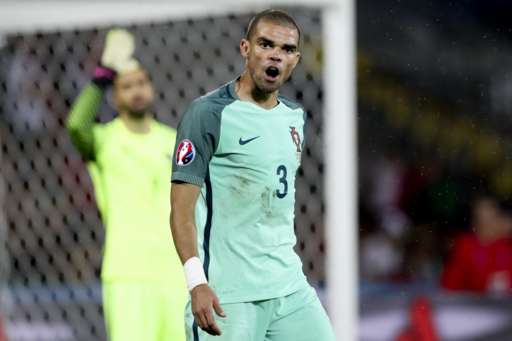 The never-ending game?
Croatia 0-0 Portugal
Get involved #bbceuro2016
Christopher David: "It's like watching Croatia/Portugal" may soon replace the phrase "It's like watching paint dry"
SUBSTITUTION
Croatia 0-0 Portugal
Portugal change. Adrien Silva is replaced by Danilo.
Christian Evans: To paraphrase the comic book guy from a certain famous cartoon; Worst. Game. Ever.
Mufc believer: This has been a poor tournament so far, let's admit it. Good players have been bad, the bad have been good. So upsidedown.
Mark Duffell: Twitter full of 'paint drying' comments now. For god's sake. That's ridiculous. And unfair. On the paint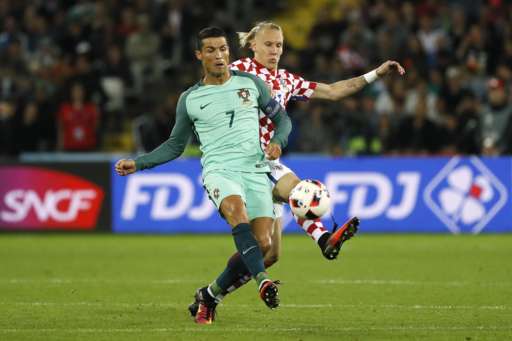 Dross, ridiculous etc…
Croatia 0-0 Portugal

Danny Mills
Ex-England defender on BBC Radio 5 live
Fans have paid good money to be here. It's absolute dross. No attempt on goal in 105 minutes. It's just ridiculous at the moment.
KICK-OFF
Croatia 0-0 Portugal
Does either side have the guts to try and win it?
This game is surely heading for penalties. Whichever team loses will be left to wonder why they didn't actually try to win the game at any point?
It is utterly no risk football, designed to cling to a 50/50 chance of progress from spot-kicks.
HALF-TIME
Croatia 0-0 Portugal
So that's 105 minutes without a shot on target. No wonder there are boos from the stands in Lens.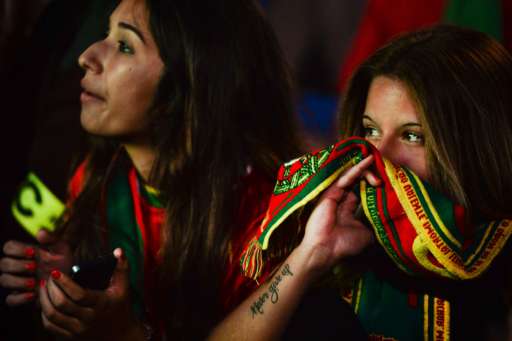 Luka Modric tries to get his team ticking, but while his cross reaches Ivan Perisic at the back post, the midfielder is on too tight an angle to threaten with his volleyed effort.
Vedran Corluka is down following the corner. He is not a happy man. Looks like it might be a groin problem. It doesn't look like he'll be able to continue.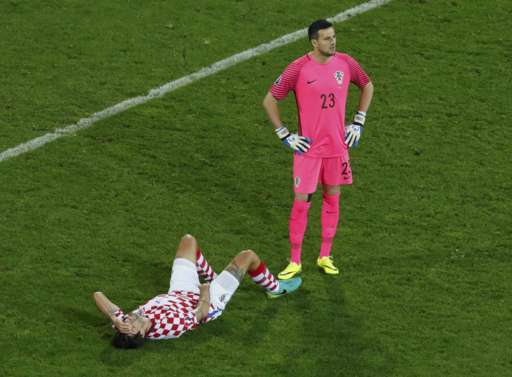 Danny Mills
Ex-England defender on BBC Radio 5 live
This has to go down as one of the worst football matches ever seen.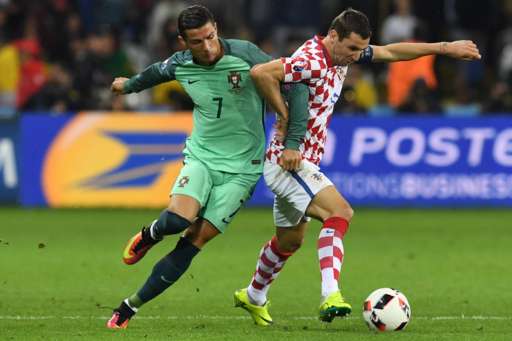 It gets worse. Ricardo Quaresma slips delivering a free-kick and is lucky that a Croatia head gifts his side a corner. Not that they can do anything with it as the Croatia defence head clear.
Well, Croatia are at least having shots. They're not hitting the target – Marcelo Brozovic the latest culprit from about 25 yards – but at least they are shooting. I mean, what do we expect from Europe's best players? Accuracy? Pah.
A long-time coming
Croatia 0-0 Portugal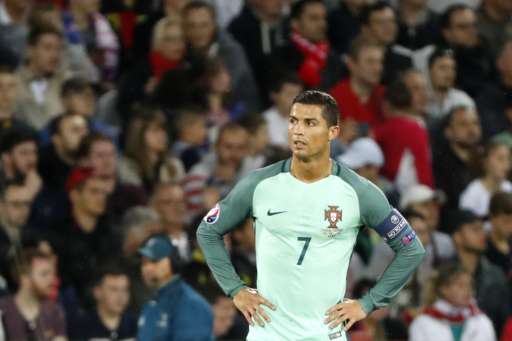 This is the first major tournament game without a shot on target inside 90 minutes since 1980.
Oh, and there were no goals scored in any of the last four Euros matches that went to extra time…
Oh good God. Nikola Kalinic gets in behind the Portugal defence and has an actual sight of goal. We all hold our breath as a shot on target – maybe even a goal – beckons, but the substitute slices his effort wide like his boot was a block of Toblerone.
Get involved #bbceuro2016
Andrew White: Been out all evening so just picking this game up now as it goes to extra time. What did I miss?
Stick around, Andrew. It's been a belter…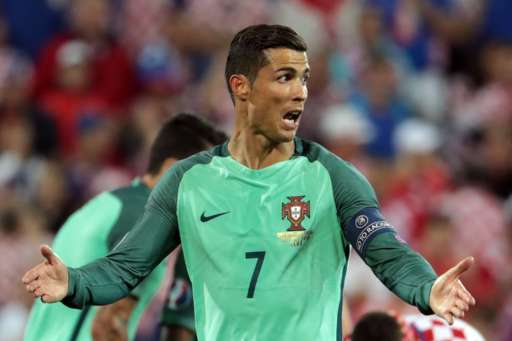 I think the 90 minutes have reconditioned this crowd to what constitutes a close chance. They warmly applaud Nikola Kalinic's header, which loops harmlessly over the bar.
Risky from Renato Sanchez. He has already been booked and barges into Luka Modric, sending him spinning to the turf in the Portugal half.
Darijo Srna decides to take attacking matters into his own hands, but hammers his 35-yard free-kick into the wall.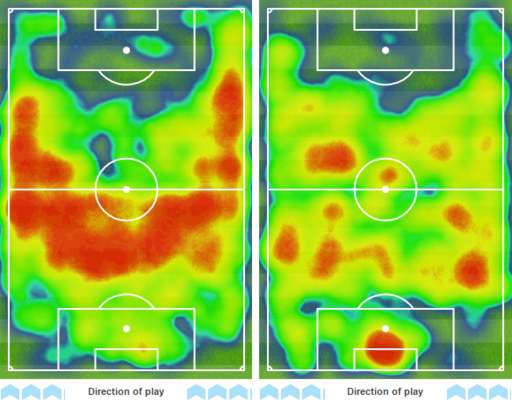 It almost looks like both sides actively avoided touching the ball in the opposition area, judging by the heatmaps above.
Ronaldo has a man massaging each calf. I have no idea why. It's not like he used either of them much during that 90 minutes.
Both teams have had a little huddle and we are ready for extra-time. If you are still with me, well done. No seriously, well done. You're tolerance for awful football knows no limit.
Get involved #bbceuro2016
Peter Budd: Please please no more! I will never moan about an England performance again after this match
Shane Daly: I know if I turn this game off, I will miss the most incredible 30 minutes of football ever played. It would be typical.
A little closer to home, the Daily Telegraph have an interesting slant on Roy Hodgson's contract talks…

At least they have a sense of humour…
It's a different sport, but considering how dull this game is – and the fact England have hammered the Aussies in another sport – we thought you might like this from the morning newspapers down under…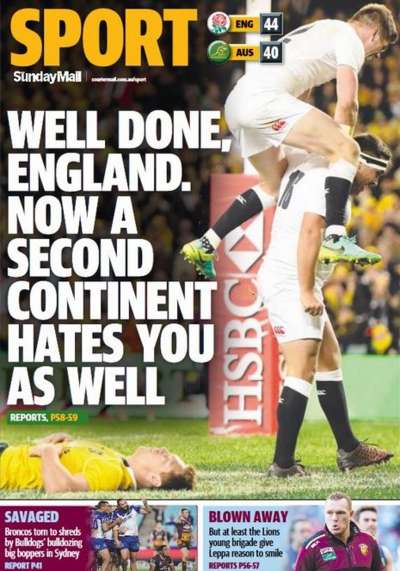 Comments
comments