'Media release' claims Babes-Mampintsha video was faked for a campaign
The gqom queen's sister has dismissed the post as 'lies'.
An alleged "media release", which is currently being widely circulated on social media and WhatsApp, claims that the Instagram live video which appears to show gqom star Babes Wodumo, real name Bongekile Simelane, being assaulted by her boyfriend, Mandla "Mampintsha" Maphumulo, is not real and was filmed as part of a campaign to highlight violence against women.
The release, which is signed "Babes and Pintsha" but is not accompanied by any contact details, says the clip was "done by both of us" in an attempt "to highlight" the problem of violence against women.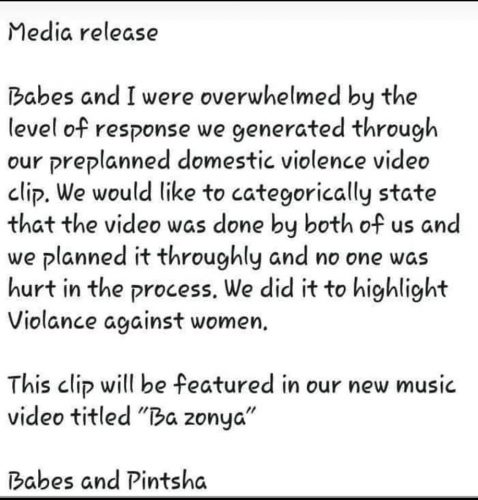 Babes' sister, Nondumiso Simelane, told The Juice the post was fake.
"Lies, lies, lies. Babes is currently sleeping and she is traumatised," she said.
She also confirmed this on SAFM, saying the assault was no hoax and that Babes was considering laying charges.
Not many on social media appear to have bought that the release is genuine, with others stating that they would be outraged if it did indeed turn out to be a publicity stunt, much as people were incensed after rapper Nomuzi "Moozlie" Mabena faked an accident for a campaign by Volkswagen and Drive Dry.
Social media users were outraged in January after it was revealed that an Instagram live video showing Mabena having a car accident was staged as part of a road safety awareness campaign.
https://twitter.com/TouchHDOnline/status/1102518908374925313
Maphumulo was seen assaulting Simelane on a video that went viral on social media. Simelane went live on Instagram on Sunday night and in the video, which has since been shared on other websites –  she can be heard asking Maphumulo: "Why are you beating me?" offscreen before they both come into view in the bedroom and he repeatedly hits her.
It is alleged that this was not the first time he assaulted her.
In a radio interview on Metro Fm in 2018, Masechaba Ndlovu confronted Simelane about reports of abuse. The singer did not confirm or deny the allegations. Masechaba was called names and vilified when she outed the alleged abuse Simelane went through at the hand of Maphumulo.
Maphumulo later responded to the allegations saying he was no saint and appeared on the same radio show asking people to pray for them as a couple.
(Compiled by Daniel Friedman. Additional reporting by ANA)
Source : Citizen